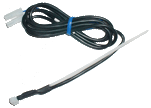 Sealed Thermistor
Sensing Element
Using the wrap to secure and fit to condensing unit pipes.
---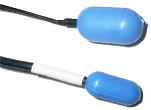 Fully Encapsulated Thermistor Sensing Elements
Using low cost tooling & low pressure hot melt polyester injection principles.
---

Stainless Steel Machined Housing
With brazed 2 wire thermocouple for use in packaging equipment.
(J type thermocouples)
---
Thermistor Bead
Attached to strain relief clamp prior to overmoulding.
Completed Sensor after over moulding, held to pipe using standard tie wrap.
---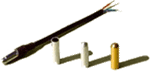 Temperature Sensor
Fitted with spun brass bullet shaped housing used in fridge type applications.
---
Water Sensing Product
Used in marine applications "Bilge Bug". A fully potted sensor circuit to detect the presence of water in bilges. The unit is designed to run from 9 – 36v DC. Fully CE marked.
---
Temperature Differential Control
A circuit designed to control pumps of similar load, but working on a temperature differential principle. Complete with timing control and relay O/Ps – mains operated – fully CE marked.
---
We are able to offer a full design service for printed board and moulded products using our associated companies. See Links.